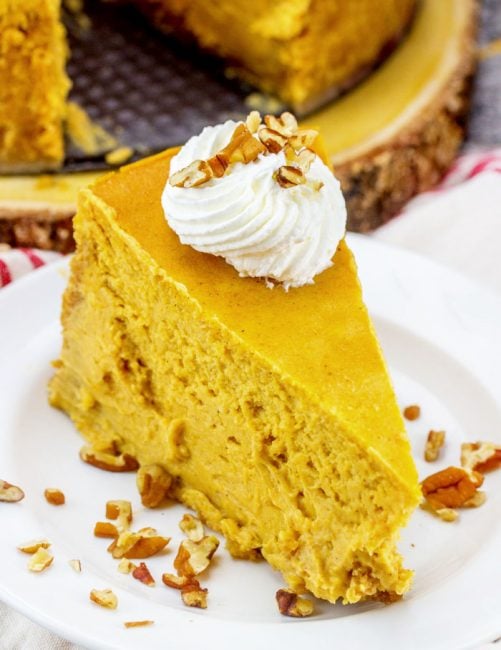 Thick, rich, and delicious! This Pumpkin Cheesecake is the perfect addition to your fall celebrations!
So what is Fall without pumpkin? You see all these pumpkin pie recipes out there and pumpkin cakes, well I felt like I wanted to do something a little different and went the route of a Pumpkin Cheesecake! And I'm so happy that I did, this cheesecake is seriously so delish!
Topped with mounds of whipped cream and sprinkled with pecans, this Pumpkin Cheesecake puts all those other pumpkin desserts to shame.
This velvety goodness is one of my new go-to fall treats!
Pumpkin Cheesecake
Created by Allison Miller on October 3, 2017
Prep Time:
8h 15m
Cook Time:
1h 45m
Total Time:
10h
Ingredients
2 1/2

cups

graham cracker crumbs

3/4

cup

unsalted butter, melted

2 3/4

cups

sugar, divided

1 1/2

teaspoons

salt, divided

2

pounds

(four 8-ounce packages) cream cheese, softened

1/4

cup

sour cream

1

(15 oz) can pure pumpkin

6

large eggs, lightly beaten

1

tablespoon

vanilla extract

2 1/2

teaspoons

ground cinnamon

1

teaspoon

ground ginger

1/4

teaspoon

ground cloves

Whipped cream

Chopped pecans
Instructions
Preheat oven to 325 degrees F.
Spray a 10-inch springform pan with non-stick cooking spray and wrap the bottom with tin foil.
In a large bowl mix together the graham cracker crumbs, melted butter, 1/4 cup of the sugar and 1/2 teaspoon salt.
Press the crumb mixture into the bottom and up the sides of the pan. Bake for about 15 to 20 minutes, then remove from oven and set aside to cool slightly.
Meanwhile, beat the cream cheese until smooth.
Add the remaining 2 1/2 cups sugar and mix well.
Beat in the sour cream, then add the pumpkin, eggs, vanilla, 1 teaspoon salt and the spices and mix until just combined.
Pour into the cooled crust.
Place your pan into a roasting pan and fill halfway with water.
Bake for about 1 hour 45 minutes the turn off the oven and open the door to let out some heat then close again and leave the cheesecake in the oven for about an hour.
Remove from oven and out of the roasting pan and let cool to room temp.
Cover and refrigerate for at least 8 hours or overnight.
Remove cheesecake from springform and top with dollops of whipped cream and chopped pecans.
The post Pumpkin Cheesecake appeared first on i am baker.